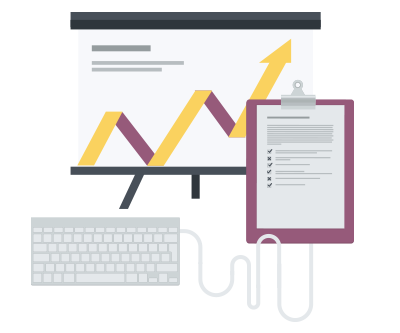 Google's statistic shows – there is 80% of potential customers reach the websites on the first page of Google's organic search result when they are searching for products or services.
If your website is not ranked on the first page of Google. It is more likely to become invisible to your customers. A good page rank of website definitely can gain you the bigger exposure to the public and more business opportunities for your website. This is why you need a professional Search Engine Optimization (SEO) team to bring your website to the first page.
SEO Marketing & Strategy
SEO is the abbreviation for Search Engine Optimization. It is a process of arranging a web site's pages and contents to obtain high rankings and visible in various search engines.
The SEO process usually includes tailoring on-page text (such as title, headlines and subtitles, etc. In addition to choosing the proper keywords for a page's meta tags. It can be carried out by the person who created the site, or by one of many professional Search Engine Optimizers. These people specialize in making a site as compatible with those requirements as possible.
There are many SEO techniques. In general, these techniques can be categorized as On-Page Optimization, On-Site Optimization, and Off-Site Optimization.
Search Engines Optimization (SEO) is the powerful option to promote your website, which drives constant traffics to your website by continually managing your website performance.
We are your ideal SEO Partner
Pioneer in Malaysia SEO market.
Professional SEO team with years of experiences.
Serve hundreds of websites in different industries.
Commitment on rankings.
Analysis & Reporting
Our professional SEO team is serving over hundreds of websites and well-maintaining their rankings every day. We aim to deliver the best quality of SEO service & keep the long term partnerships with our clients.
Let your customers search for you!